13 février 2014
Tout comme Infection il y a 4 ans, le Secret de la Nuit sera projeté hors concours le samedi 22 février à 20h30 à Torcy (Bourgogne), dans le cadre du festival Torcymages ! La version qui a été prise en compte n'est pas celle que vous verrez dimanche, mais une version précédente qui comportait encore certains défauts.
As previously for Infection 4 years ago, the Night's secret ("le Secret de la Nuit") will be showed the 22th of february in Torcy (Bourgogne) out of competition, in the Torcymages fest ! The release which has been taken into account is not the one you'lle be able to see Sunday, but a previous one with somme issues.
22 janvier 2014
Je vous laisse découvrir ci-dessous l'affiche du projet Vampyr : Le Secret de la Nuit.
I'll let you see below the poster of the Vampyr project: The Secret of the Night.
Merci à Pyduc pour cette réalisation. Many thanks to Pyduc for this.
Après plusieurs visionnages, certaines critiques (toujours constructives) m'ont amené à effectuer quelques changements, que ce soit dans le détail, avec certains plans interchangés, rallongés, raccourcis, ou plus globalement, avec le passage du film en Noir & Blanc par exemple (pour des questions d'étalonnage essentiellement) ou certaines coupes...
After several views, some criticisms (always constructuctive) lead me to few changes. It could be detail changes, with some shoots
interchanged, lengthened, shortened, or global changes, with the passing of the movie Black & White for example (essentially due to calibration issues) or some cuts...
La version proposée en projection sera donc un peu plus courte que celle prévue à l'origine. The revision that will be showed will be shorter than the first one.
Le film sera visible lors de 2 occasions particulières :
- sur grand écran dans un véritable cinéma le 16 février à 10h30 - cinéma le Brady - Paris 10ème (une petite participation de 5 euros sera la bienvenue)
- dans un bistrot sympathique et convivial le 1er mars à 20h - bar "le Supercoin" - Paris 18ème (gratuit)
The movie will be showed 2 times:
- on a big screen in a true theater the 16th of Febuary (10h30 am) - cinema le Brady - Paris 10ème (5€)
- in a friendly bar the 1st of March (8h pm) - bar "le Supercoin" - Paris 18ème (free)
Venez nombreux ! Please come many!

Sanguinairement ! Bloody salutations!
13 décembre 2013
Ca y est le film est quasiment terminé ! Une première version a été présentée hier au sein d'une association de vidéastes. Il reste quelques détails à corriger. Donc nous aurons bientôt le plaisir de vous convier à une ou plusieurs soirées de projection pour montrer ce film (et d'autres).
Je vous livre donc ici le titre original. Le film s'appelle Le Secret de la Nuit.
Finaly, the movie is almost finished! A first revision was showed yesterday to a videasts audience. Some details to fix are remaining. So we will have soon the great pleasure to invit you to one or several evenings to show the movie (and more)...
I give you here the original title. The movie calls Le Secret de la Nuit in french, that we can translate as "the Night's Secret".
Je vous laisse avec du métal Portugais (oui oui ça existe) et un trèèèès bon clip à regarder à la faveur de la nuit.
I let you with Portuguese metal (yes it is!) and a veryyyy good video clip to watch when the night comes down.
Sanguinairement,
Bloody salutations,
25 octobre 2013
Ce billet pour dire que le film est en cours de montage. Il manque encore quelques plans (4 ou 5) pour parfaire l'ensemble, mais j'ai déjà une idée de sa durée. En parallèle la musique est aussi en train d'être finalisée. Restera un travail sur le son à produire.
This post to say that the work is in progress on the movie breakdown. Some shoots are still missing (4 ou 5), but I already have an idea about it total duration. In another hand, original score is being completed too. Will stay the sound design.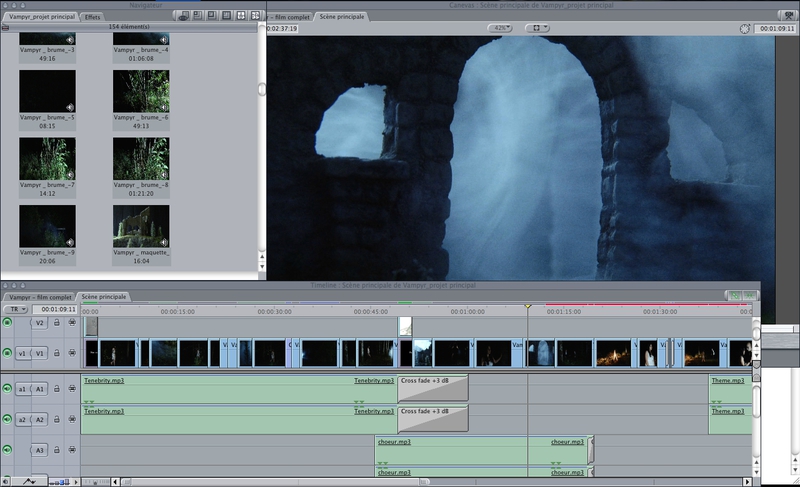 Il y a encore du boulot donc, surtout que plein de questions se pose : le film a-t-il un sens ? Sera-t-il compris ? Les mécanismes de la narration fonctionnent-ils ? Bref... En attendant allez faire un tour sur le site de notre Vampire officiel, on y voit des goules assoiffées.
There is so much work to do, especially that there is a lot a questions : the movie has it a sense ? Will it be understood ? Does the story telling work ? So long... Please go to visit the website of our favorite Vampire, we will see some thirsty ghouls.

Sanguinairement,
Bloody salutations,
06 octobre 2013
Aujourd'hui j'ai décidé de ne plus me taire de dire toute la vérité ! Oui le milieu du cinéma est pourri jusqu'à la moëlle ! Oui on assiste quotidiennement un déluge de sexe et de drogue !
Today, i've decided to open my mouth and tell all the truth! Yes the cinema world is rotten to the core! Yes there are daily floods of sex and drugs!
J'en veux pour preuve cette photo indigne et pornographique, prise sur le tournage de Vampyr lors du premier tournage de la scène du train. Toi qui est mineur ou membre de Civitas, détourne donc les yeux de cette vérité insoutenable :
This is the proof, this pornographic picture, taken on the shooting of Vampyr after the first try of the railway scene. If your are minor or member of a tea party, so look away from the unbearable truth:
Cette photo a réellement été prise dans le feu de l'action juste après un tournage (merci à Seb).
This picture was really shooted in the fire of the action, just after the shooting (thx to Seb).
Je suis désolé pour ceux qui ne sont pas tout à fait tombé sur le résultat escompté suite à leur recherche Google ("sexe" "vidéo" "porno"...), sans rancune les gars, n'hésitez pas à aller voir les vidéos du site.
I am sorry for those who are not quite stumbled upon the expected result of their Google search ("sex" "video" "porn" ...), no hard feelings guys, do not hesitate to go see other site videos.
Donc, cet article inutile pour dire que la scène du train a été retournée ce matin, avec notre nouvelle actrice. Celà c'est très bien passé, sans intempéries ni imprévus, ni maréchaussé ... Ne restent donc plus que quelques prises complémentaires en forêt mais sans acteurs.
So, this useless article to say that the train scene was returned this morning with our new actress. This really well spend, without weather or unforeseen or any cops ... Therefore remain few complementary plans in the forest but without actors.
Le montage est plutôt avancé, les plans de la maquette ont été intégré à nos plans nocturnes, la musique aussi (ne reste quasiment plus qu'à l'enregistrer), ne resteront que quelques effets FX et de son à produire. Je n'avance pas encore de date de sortie car je préfère être prudent.
Mounting is fairly advanced, plans of the model were integrated into our night shots, the music too (just remains the record), will only stay few FX and sound to produce. I did not advance release date because I prefer to be cautious.
Bonne semaine, have a good week !
Sanguinairement,
Bloody salutations,
23 septembre 2013
Ce soir quelques photos prises sur le lieu de crime. On aperçoit même un vampire, comme quoi ce ne serait pas une légende finalement !
Tonight some shots taken on the crime scene. You can perceive a vampire, so after all it wouldn't be a legend !
Les photos sont disponibles dans l'album photo Revue de tournage.
Pictures are available in the album Making of.
Encore merci aux acteurs et aux techniciens qui ont souffert sous la pluie et dans le froid. Merci à Tine Arconn notre photographe plateau.
Thanks to the actors and to the technicians who have suffered under the rain and in the cold weather. Thanks to Tine Arconn, our photograph on stage.

Sanguinairement,
Bloody salutations,
16 septembre 2013
Voici quelques images qui devraient en faire sourire certains !
Please find here a little video recorded during the shooting in epic conditions !
Bientôt d'autres images !
Soon there will other pictures !
Sanguinairement,
Bloody salutations,
10 août 2013
Aujourd'hui, seulement quelques lignes pour introduire ces quelques images :
Today, just few words to introduce this short movie:
Aucun des plans présentés ici ne seront montrés dans le projet Vampyr, il s'agit juste ici de rendre hommage au travail de Warprops, qui en a quelque peu écourté ses nuits pendant ses derniers mois pour finir cette entreprise !
None of plans presented here will appear in the Vampyr project, the purpose is to pay tribute to the work of Warprops, who has slightly shortened his nights during last months to finish this business!
Sanguinairement !
Bloody salutations !

05 août 2013
On baisse la garde, on se dit que tout va bien, et voilà ce qui arrive :
People are wary less, saying that everything is okay, and this is what happens:
Pourtant d'autres en avait déjà fait les frais :
Yet others had already paid the price:
Sanguinairement,
Bloody salutations,
31 juillet 2013
Une petit mise à jour simple pour vous permettre d'apprécier plus de photos du château du Vampire dans les albums photos. Elles ont essentiellement été mise dans la gallerie Production, mais il y a aussi une photo de l'installation démoniaque dans l'album Revue de tournage.
A little update to let you appreciate more pictures about the Vampire's castle in the galleries. You can find most of them in the Production gallery, but you can find the evil installation in the Making of gallery.
Merci à Didarrochi pour ses superbes clichés (en voici un exemple juste recadré) :
Thanks to Didarrochi for his beautiful clichés (you can find here an exemple only resized):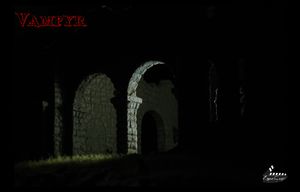 Sanguinairement,
Bloody salutations,